In retail, there is one constant you can count on, and that's change. Competitors emerge, chains consolidate, regulations evolve, and economies fluctuate – while consumer expectations continue to grow. And, as we saw in 2020, a global pandemic can further cause change. For success in this dynamic environment, retailers must adapt to evolving consumer demands, leverage growth opportunities and stay connected to core customers. Often, merchandise operations management is overlooked but is a critical part of a retailers' success.
When it comes to merchandise operations management solutions, IDC research and market analysis indicates retailers need solutions that: help them serve customers better, are purpose built for the analytical and experiential requirements of today's retail environment, future-proof their organizations, and have a high degree of automation.
Meeting these needs puts companies in the Leaders category and that's where you will find Blue Yonder in the recently launched IDC MarketScape: Worldwide Retail Merchandise Operations Management Solutions 2020–2021 Vendor Assessment, (Doc# US47029020), December 2020.
In this report, Blue Yonder was recognized for its Perception of Cost and Value, End-Consumer Focus, and Future Orientation. The report states: "Regardless of segment, if you are a retailer aiming for a solution that helps you orient toward the end consumer with a vendor partner that has a strong understanding of that consumer and offers significant perception of value, Blue Yonder is a strong candidate."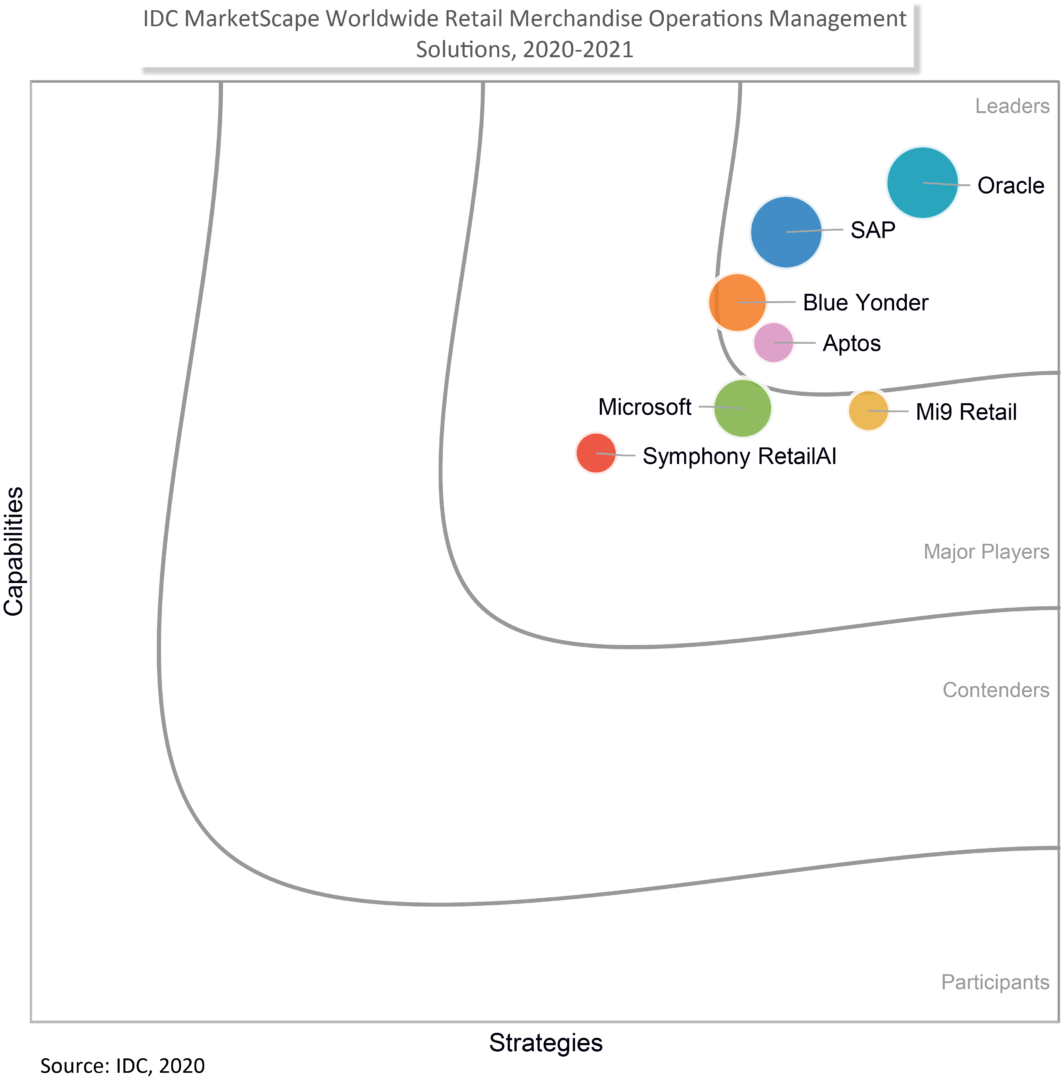 The Leaders placement is thanks to Blue Yonder's two merchandise operations management solutions, Merchandise Management System and Portfolio Merchandise Management. These solutions offer retailers a proven, cost-effective and integrated system that adapts to changes across sales channels, provides visibility into inventory position and empowers their teams to act fast on market shifts and corporate initiatives.
The Merchandise Management System is an ideal solution for both hardline and softline retailers. The solution scales to process millions of transactions per hour and enables these retailers to grow; facilitates exception management linked to key performance indicators; manages purchasing and enables buyers to optimize against their plan while streamlining allocation and/or replenishment, reducing markdowns; and features user-defined attributes at product hierarchy, style and product level among other capabilities.
The Portfolio Merchandise Management is an ideal solution for hardline, softline and food retailers. The solution offers proven item, location, vendor, price, cost and promotion management; purchasing, receiving, allocation and replenishment; and perpetual inventory valuation capabilities tailored to retailers' needs.
IDC MarketScape vendor assessment model is designed to provide an overview of the competitive fitness of ICT (information and communications technology) suppliers in a given market. The research methodology utilizes a rigorous scoring methodology based on both qualitative and quantitative criteria that results in a single graphical illustration of each vendor's position within a given market. IDC MarketScape provides a clear framework in which the product and service offerings, capabilities and strategies, and current and future market success factors of IT and telecommunications vendors can be meaningfully compared. The framework also provides technology buyers with a 360-degree assessment of the strengths and weaknesses of current and prospective vendors.
Related posts